Over $34,000 Raised for Clean Water in Honor of Bono's Birthday!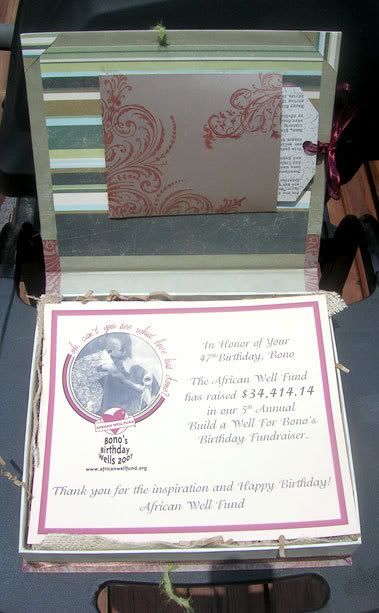 The African Well Fund is thrilled to announce that the total for this year's Build a Well for Bono's Birthday fundraising drive is an astounding $34,414.14 !!
The funds from this year's drive will be used by African Well Fund and our partner organization,
Africare
, to team up with
Invisible Children
to build wells at schools in Uganda. Invisible Children is a non-profit organization dedicated to improving the lives of war-affected people in Northern Uganda through the advancement of education. We will have more information on this exciting project in the coming weeks.
Donations were collected from March 22nd to May 15th. Donations were also received from the U2 Live photo auction, the auction raised over $7,000 for the fundraiser. The fundraiser also benefited from the sales of the
The Little Red Book of Poe-ee-tree
, a collection of poems and short stories written by a handful of U2 fans scattered across the globe.
Fans who donated were invite to sign an online birthday card for Bono. The signatures and birthday wishes were incorporated into a beautiful handmade card that was sent to Bono in Dublin.
You can view a slideshow of the gift here
This year marks the fifth in a row that U2 fans have contributed to the African Well Fund to commemorate Bono's Birthday. More than $100,000 has been raised throughout the years and has been used by our partner Africare to implement water and sanitation projects in Uganda, Angola and Zimbabwe. AWF wishes to thank all donors and volunteers for their generosity. You have helped to make a significant improvement in the lives of so many!